Posted by Tracy Jai Edwards on May 20th 2016
My struggle with weight began when I moved away from my home state of Texas to the Big Apple to pursue my dream of big the lights. As most people can relate – food was my comfort, my drug of choice. And before I knew it, I went from a pretty young chorus girl to being cast as the chubby comic relief in the musical 'Grease'. I was 21 years old and I remember the heartache of my weight. Thus the yo-yo began. I tried EVERY diet in the book and had minor success here and there, but never made a change of lifestyle until recently.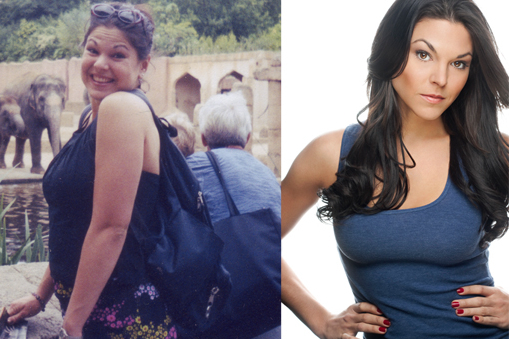 I am an actress, singer, dancer, and now… health enthusiast! I have spent 12 years living a beautiful, exciting life on Broadway, Off- Broadway, on Television in Los Angeles and on National and European Tours… putting smiles on faces, and love in people's hearts!
My Big Broadway Dream
In August of 2003, I was 23 years old, and my Big Broadway Dream was coming true! I still get chills thinking about it to this day! Hairspray on Broadway wanted me? They sure did!! Only one catch… I had to lose 10 lbs for the part and step on a scale every Sunday afternoon before the matinee to make sure I was under a certain weight. And as you can probably guess… it worsened my food addiction and struggles and yes… I almost lost my job because the number on the scale creeped up and over what is was supposed to be in my contract!
When I think about it… it is astounding to me that I manifested my first Broadway show and a role where I had to make fun of Tracy – a fat girl who had the same name as me – for eight shows a week! I had managed to create my biggest dream and my worst nightmare all at the same time!
Counting Calories
The amount of pain and sorrow and dis-ease in my thoughts throughout the years due to weight is startling to me! I understand SO WELL… food addiction, food binging (then hiding the evidence) lying to others about what I ate, counting calories till it hurts, stepping on scales and totally breaking down, crying myself to sleep because of the hate toward myself and my body…
Now, over 10 years later –I love myself enough to have really changed and live a life of joy and health. When you don't have optimal health, you don't have your optimal life! Let's bethough… no one is perfect and I have some bad days, and some bad weeks. I still stumble and fall – but the key is to just get up and put one foot in front of the other and before you know it, you find yourself where you never thought you could go!
Finding Health & Happiness
Detoxing has been a huge factor in my health journey. I hope that I inspire at least one beautiful soul reading this to love themselves more and to take the first step towards optimal health. Taking the first step isn't hard, but the decision to make the first step often is. I stay motivated when I share my story, and now help others as a fitness trainer on their journey toward health and happiness.
My Secret Weapon
I can't say enough about Burn & Build Body products... the products and the creators themselves, who have been – and will always be one of my coveted secret weapons in life! I have accomplished fitness goals that i didn't think would be possible beause of their help! One of them being… a top 5 World Fitness Competitor winner! These will always be apart of my life… ALWAYS. I love you so much Steven and Rick, thank you for all that you do.
– Tracy Jai Edwards
Tracy Jai Edwards has been a leading lady on Broadway and MTV in Legally Blonde and Hairspray. She has brought life to the TV shows Curb your Enthusiasm, White Collar, Law and Order:SVU, Mercy and Big Lake. She is currently living and working in Los Angeles, and has fitness enthusiasts seeking her out for private fitness training. Tracy can be reached at by sending her an email (With Tracy in the subject line) to Info@BurnandBuildBody.com.